Welcome to our collection of men's leather boots, where style meets durability in perfect harmony. At Ionia Sports, we offer an extensive range of premium leather boots designed specifically for men who appreciate classic aesthetics and exceptional quality. Whether you're searching for everyday footwear or a standout pair for special occasions, our men's boots are the epitome of timeless fashion and long-lasting performance.
Crafted To Perfection – Uncompromising Quality
At Ionia Sports, we take great pride in our commitment to craftsmanship and quality. Each pair of our men's leather boots is meticulously crafted by skilled artisans who possess years of expertise in the art of shoemaking. Through a harmonious blend of traditional techniques and contemporary design, we create boots that not only exude elegance but also stand the test of time. When you choose our boots, you're investing in exceptional footwear that will surpass your expectations in terms of both style and durability.
Versatile Elegance – Perfect For Every Occasion
Our collection of men's leather boots caters to a wide range of styles and occasions, ensuring there's a perfect pair for every discerning gentleman. Whether you need sleek and sophisticated dress boots for formal events or sturdy and resilient boots for outdoor adventures, we have you covered. Our men's boots effortlessly complement any outfit, whether it's a tailored suit, a casual ensemble, or something in between. With their versatile elegance, our boots become a statement piece that adds a touch of sophistication to your overall look.
Supreme Comfort – Support With Every Step
We understand that comfort is as important as style when it comes to footwear. That's why our men's leather boots are designed with your comfort in mind. Each pair is meticulously engineered to provide exceptional support and cushioning, ensuring that every step you take feels comfortable and effortless. Our boots feature premium uppers that conform to the shape of your feet over time, creating a customized fit. With cushioned insoles and ergonomic designs, our boots offer all-day comfort, enabling you to walk with confidence and ease.
Elevate Your Wardrobe – A Mark Of Distinction
Choosing our men's leather boots is more than just a purchase; it's a statement of refined taste and confidence. Our leather boots elevate your wardrobe to new heights with their sleek lines, meticulous craftsmanship, and attention to detail. They become a mark of distinction that sets you apart, whether you're attending formal events or expressing your personal style in everyday life. Step into a world of sophistication and make a lasting impression with our exquisite range of men's boots.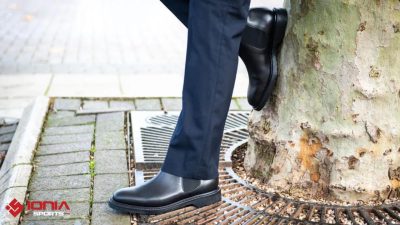 Discover Ionia Sports – Your Destination For Exceptional Leather Boots
Ready to enhance your style? Look no further than Ionia Sports, your ultimate destination for exceptional men's leather boots. Explore our diverse selection of designs, colors, and sizes to find the perfect pair that aligns with your unique preferences. We pride ourselves on offering not only top-notch products but also exceptional customer service. When you shop with us, you can expect a seamless and enjoyable experience from start to finish. Elevate your footwear collection with our men's boots and experience the perfect blend of style, durability, and unparalleled craftsmanship.
Wholesale Men's Leather Boots
At Ionia Sports, we also offer wholesale options for retailers and businesses looking to stock up on high-quality men's leather boots. Our wholesale program provides an opportunity to purchase our exceptional footwear at discounted prices, allowing you to maximize your profit margins without compromising on quality.
With our wide range of men's leather boots available for wholesale, you can cater to the diverse preferences of your customers and meet their demands for fashionable and durable footwear. Whether you own a boutique, a shoe store, or an online retail platform, our wholesale program offers you the convenience of bulk ordering while maintaining the superior craftsmanship and style that defines our brand.
When you choose our wholesale men's boots, you can rest assured that you are getting products of the highest standard. Our boots are meticulously crafted using premium materials and undergo stringent quality control measures to ensure consistency and excellence across every pair. By partnering with us, you can offer your customers footwear that combines timeless style, unmatched durability, and exceptional comfort.
To learn more about our wholesale program and discuss pricing options, please contact our dedicated wholesale team. We are committed to providing outstanding customer service and assisting you in making informed decisions for your business. Take advantage of our wholesale program and elevate your inventory with our premium men's leather boots today.
Brown Leather Boots For Men
Discover the undeniable allure of our collection of brown leather boots for men at Ionia Sports. Brown leather boots are a classic choice that exudes sophistication and versatility, making them a staple in any gentleman's wardrobe. With their rich, earthy tones and premium craftsmanship, our brown leather boots effortlessly elevate your style and add a touch of refined elegance to any outfit.
Brown boots are renowned for their timeless appeal, allowing you to create both formal and casual looks with ease. Pair them with tailored trousers for a polished and professional appearance, or wear them with jeans for a more relaxed and rugged vibe. The warm and inviting color of brown leather brings a sense of character and depth to your ensemble, making a distinct fashion statement wherever you go.
Our brown leather boots for men are carefully crafted using the finest quality materials, ensuring durability and long-lasting performance. The supple and smooth leather uppers not only provide a luxurious feel but also mold to your feet over time, creating a personalized fit that enhances comfort. With cushioned insoles and sturdy outsoles, our brown boots offer the perfect balance of style and functionality.
Whether you're attending a business meeting, exploring the great outdoors, or simply enjoying a night out on the town, our brown boots are the epitome of versatile footwear. They effortlessly transition from day to night, adapting to any occasion with their timeless charm. Embrace the classic appeal of brown leather and step into a world of style and sophistication with our exceptional collection of men's brown boots.
Casual Leather Boots For Men
For a laid-back yet stylish look, explore our collection of casual leather boots for men at Ionia Sports. These boots effortlessly blend comfort and fashion, allowing you to achieve a relaxed and sophisticated appearance in various casual settings. With their versatile designs and high-quality craftsmanship, our casual boots are the perfect choice for fashion-conscious men who appreciate effortless style.
Our casual leather boots come in a range of designs, from rugged lace-up boots to sleek Chelsea boots, offering options that cater to different personal preferences. Crafted with attention to detail, these boots feature supple leather uppers that offer both durability and a soft, comfortable feel. The relaxed fit and cushioned insoles ensure all-day comfort, making them ideal for leisurely activities or long walks around the city.
These boots effortlessly complement a variety of casual outfits, whether you're pairing them with jeans, chinos, or even shorts during the warmer months. The versatile nature of casual boots allows you to effortlessly transition from a daytime stroll to an evening gathering, maintaining an air of refined style.
Embrace the essence of relaxed sophistication with our collection of casual leather boots for men. Elevate your casual wardrobe with these boots that effortlessly combine comfort and fashion. Whether you're heading out for a weekend brunch, attending an informal gathering, or simply running errands, our casual boots will ensure you're stepping out in style.
Leather Boots For Men's Fashion
When it comes to men's fashion, leather boots stand as an iconic choice that never goes out of style. At Ionia Sports, we offer a wide range of boots for men that capture the essence of timeless fashion and make a powerful statement. From classic designs to contemporary styles, our collection of leather boots is designed to elevate your fashion game and add a touch of sophistication to your ensemble.
Leather boots have long been associated with a sense of rugged elegance, exuding confidence and charisma. The natural texture and rich hues of leather create a visual impact, instantly elevating any outfit with its inherent charm. Whether you opt for sleek black leather boots for a sleek and polished look or choose brown leather boots for a more relaxed and earthy vibe, these footwear choices speak volumes about your personal style and fashion sensibilities.
Versatile in nature, leather boots effortlessly transition from casual to formal occasions, making them a versatile investment for your wardrobe. Pair them with jeans and a jacket for a rugged yet fashionable ensemble, or team them with tailored trousers and a blazer for a refined and sophisticated look. The adaptability of boots allows you to express your unique style and create fashion-forward outfits for any event or setting.
Crafted with meticulous attention to detail, our leather boots for men are built to withstand the test of time. The premium quality leather, combined with expert craftsmanship, ensures durability and long-lasting performance. With every step, you'll feel the impeccable quality and comfort that our leather boots provide, making them a reliable companion for any fashion-forward gentleman.
Step into the realm of timeless fashion with our exquisite collection of leather boots for men. Whether you're aiming for a bold and edgy appearance or a refined and elegant style, our boots will effortlessly enhance your overall look. Embrace the epitome of fashion with our boots and make a lasting impression wherever you go. Visit Ionia Sports