Welcome to Ionia Sports, your go-to destination for fashionable men's outerwear. Our extensive collection of short jackets for men offers a perfect blend of style and functionality. Whether you're looking for a trendy addition to your casual wardrobe or a versatile layering piece for various occasions, our selection has got you covered. Discover our latest trends in men's fashion with our range of stylish outerwear.
Stylish Outerwear: A Fashionable Statement
At Ionia Sport, we believe that your outerwear should make a fashion statement while providing optimal comfort. Our collection of stylish short jackets for men combines contemporary designs with premium materials to ensure both style and durability. From classic biker jackets to sleek bomber jackets, each piece is meticulously crafted to enhance your personal style and elevate your overall look.
Unparalleled Quality And Craftsmanship
When it comes to quality, Ionia Sports is committed to delivering nothing but the best. Our short jackets for men are created using high-quality fabrics and exceptional craftsmanship. We understand that durability is crucial, which is why we meticulously select materials that can withstand the test of time. With attention to detail and a focus on quality, each jacket is designed to offer long-lasting comfort and style.
Wholesale Short Jackets For Men At Ionia Sports
Our Ionia sports wholesale program. With our wholesale opportunities, you can take advantage of our high-quality products and expand your offerings with our fashionable collection of short jackets. At Ionia Sports, we take pride in delivering exceptional quality at competitive wholesale prices. Our short jackets for men are crafted using top-notch materials and undergo rigorous quality checks to ensure that they meet our high standards. By partnering with us, you can provide your customers with trendy outerwear that combines style and durability, all at affordable prices. We understand that each retailer has unique customer preferences and demands.
Flexible Ordering And Fast Shipping
To make the wholesale ordering process convenient and efficient for you, Ionia Sports offers flexible ordering options. Whether you need to place a bulk order or prefer to start with smaller quantities, we can accommodate your needs. Our dedicated team will work closely with you to ensure a seamless ordering experience. Additionally, we prioritize fast shipping, so you can rest assured that your orders will be promptly delivered to your store. When you choose to collaborate with ionia sports for your wholesale needs, you're choosing a reliable partner dedicated to your success.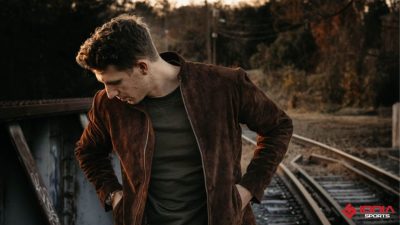 Spring Jackets For Men
As the seasons change, so should your wardrobe. Embrace the arrival of spring with our Ionia sports collection of stylish spring jackets for men. Designed to keep you comfortable and on-trend, our spring jackets are the perfect transitional pieces to elevate your style as the weather warms up. Discover the latest designs and embrace the freshness of the season with Ionia sports. When it comes to spring jackets, lightweight and breathable fabrics are key. Our collection features a range of jackets crafted from materials that allow for optimal airflow, keeping you cool and comfortable throughout the day. From breathable cotton blends to lightweight nylon, these fabrics ensure that you stay fresh while enjoying outdoor activities or transitioning between different environments. Spring is a season of versatility, and our spring jackets for men reflect just that.
Men's Short Dress Jackets
When it comes to dressing up for formal occasions or professional settings, a well-fitted and stylish jacket is a must-have in every man's wardrobe. Ionia Sports presents a sophisticated collection of men's short dress jackets that exude elegance and elevate your style to new heights. Discover our perfect balance of classic tailoring and contemporary design with our exquisite range of short-dress jackets. At Ionia Sports, we believe that attention to detail is key to achieving a refined and polished look. Our men's short dress jackets are meticulously crafted with impeccable tailoring, ensuring a sleek silhouette that accentuates your physique.
Thin Black Jackets for Men
Our Ionia sports collection of thin black jackets for men. These jackets combine style and functionality, offering a lightweight and contemporary outerwear option that effortlessly elevates your look. Discover our perfect balance of minimalism and sophistication with our range of thin black jackets. Our thin black jackets for men are designed with a minimalist aesthetic that embodies timeless elegance. The clean lines and sleek silhouette create a modern and sophisticated look that can be easily paired with a variety of outfits. Whether you're going for a casual ensemble or a more formal attire, these jackets serve as the perfect finishing touch, enhancing your overall style effortlessly. The beauty of thin black jackets lies in their versatility. Our jackets are not limited to any particular season, making them a valuable addition to your wardrobe year-round.
Bomber Jackets For Men
Our Ionia sports collection of bomber jackets for men is just what you need. These iconic jackets have stood the test of time and continue to make a bold statement in contemporary fashion. Discover the perfect balance of retro charm and modern flair with our range of bomber jackets. Bomber jackets have a rich history and have evolved into a timeless style staple. Our bomber jackets for men take this classic design and infuse it with contemporary elements, resulting in a fresh and updated look. From sleek and streamlined silhouettes to unique patterns and textures, our collection offers a variety of options to suit your personal style and make a lasting impression. One of the standout features of bomber jackets is their versatility.