Leather harnesses are very popular in fashion. They're changing how we think about the extra things we wear with our outfits. Lots of people like them because they make outfits look better. These cool things aren't just for one kind of person or only for people—they're for everyone, even our furry friends like dogs! At Ionia Sports, we will talk about leather harnesses and how they can make your outfit look great.
What Are Leather Harnesses?
Leather harnesses are stylish and functional accessories crafted from high-quality leather materials. They come in various styles and designs, making them adaptable to different fashion preferences. Whether you're going for a rugged, edgy look or a more modern appearance, there is a leather harness to suit your style.
Leather Harnesses Fashion
The fashion industry has embraced leather harnesses as a versatile and iconic trend. They have been featured in numerous runway shows and fashion magazines, proving their impact on the world of style and aesthetics. Leather harnesses have successfully crossed over from niche to mainstream fashion.
Enhancing Your Outfit's beauty
Wearing a leather harness can completely transform your outfit. It adds a unique and bold statement that draws attention. The harness acts as a focal point, enhancing your outfit's overall appeal. It can turn a simple, everyday look into something extraordinary that can boost your confidence.
Choosing The Right Leather Harness
Getting the right leather harness is important for matching your outfit. Think about its style, color, and how well it fits. It should go well with the rest of your clothes. A good harness won't just make you look better, it'll also make you feel more sure about yourself. You can find awesome confidence-boosting harnesses at Ionia Sports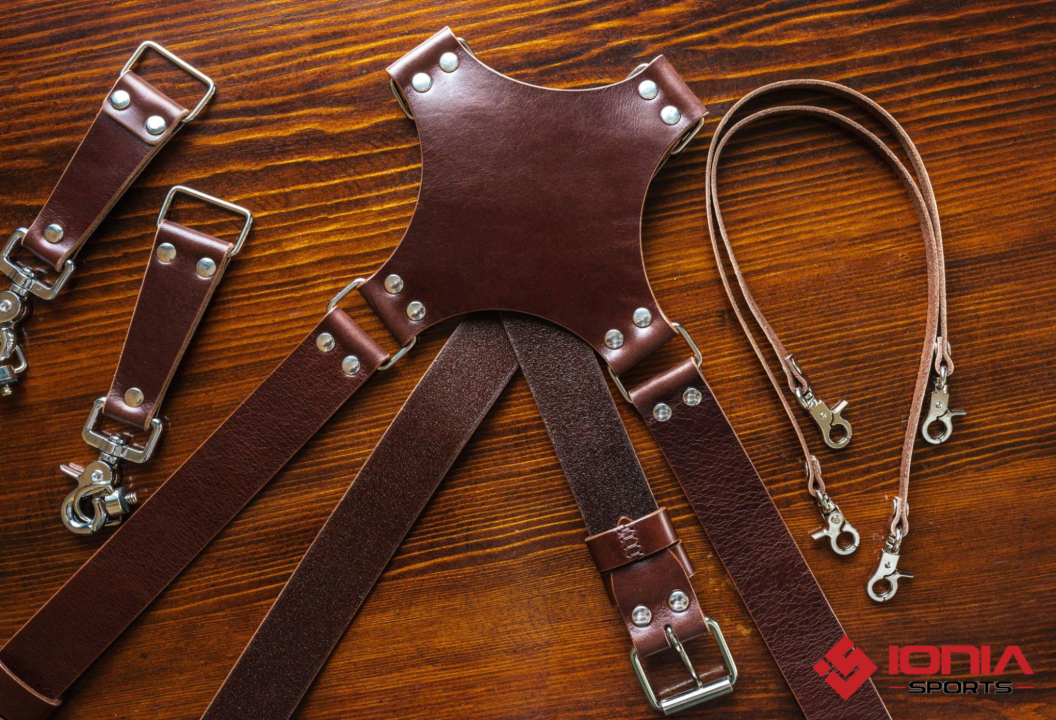 Harness Fashion Trend
Leather harnesses are not limited to any gender or species. They can be styled in a variety of ways to suit everyone. Let's explore how much this category can incorporate these fashionable accessories into their outfits.
Leather Harnesses For Men
Men can effortlessly rock Men leather harnesses as part of their wardrobe. Whether layered over a shirt or worn underneath a jacket, leather harnesses add a rugged and contemporary edge to any look. They are perfect for elevating streetwear, club attire, or casual outfits.
Leather Harnesses For Women
women's leather harnesses can be an excellent choice to accentuate their femininity and empower their sense of style. They can be worn over dresses, tops, or even as an accessory to emphasize the waist. Leather harnesses can be both bold and graceful, making them a versatile addition to any wardrobe.
Leather Harnesses For Dogs
The leather harness trend extends to our furry companions as well. Dressing up your dog in a leather harness can be both stylish and functional. It not only enhances their appearance but also provides comfort during walks. Your four-legged friend can now be a part of the fashion statement.
Where To Buy Leather Harnesses
If you're eager to incorporate leather harnesses into your outfits, Ionia Sports offers a wide range of options for men, women, and dogs. Our commitment to delivering high-quality leather harnesses extends beyond style and preference, as we also prioritize comfort, durability, and craftsmanship in every piece we create. Whether you're looking for a sleek and minimalist harness to complement your urban fashion statement or a more elaborate, fashion-forward design to make a bold statement.
In this article, we'll go through everything you need to know to take care of your leather harness. These tips will help you keep it ...
Frequently Asked Questions
Are leather harnesses suitable for everyday wear?
Absolutely! Leather harnesses can be worn for everyday fashion or special occasions, depending on your style.
Can leather harnesses be adjusted for a perfect fit?
Yes, most leather harnesses come with adjustable straps to ensure a comfortable and secure fit.
Do leather harnesses require special care to maintain their quality?
Yes, proper care is essential to maintain the quality of leather harnesses. Regular cleaning and conditioning are recommended.
What styles of leather harnesses are available for men and women at Ionia Sports?
Ionia Sports offers a diverse range of leather harness styles, from minimalist to studded designs, catering to a wide range of tastes.
Can I find leather harnesses for my dog at Ionia Sports?
Yes, Ionia Sports offers a selection of leather harnesses designed specifically for dogs, ensuring style and comfort for your furry friend.
Conclusion
Leather harnesses have become a fashion must-have, offering a unique way to enhance your outfit's aesthetics. Whether you're a man, a woman, or a pet owner, these accessories can be integrated into your wardrobe, making a bold statement. The versatility and impact of leather harnesses in fashion are undeniable, ensuring that you'll stand out in any crowd.
Get Access Now
Ready to elevate your fashion game with leather harnesses? Explore our exclusive collection at Ionia Sports and discover the perfect leather harness to enhance your outfit's aesthetics.